When writing about the Spooks, it's very hard to figure out which tense to use.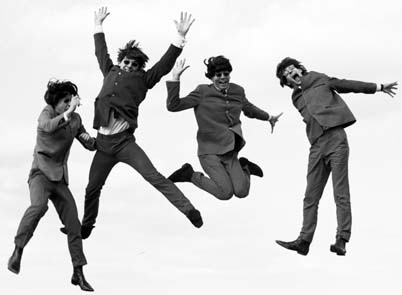 The Spooks were, or possibly are, an Edinburgh based four piece band intent on playing music as it was played in the good old 1960s: with enthusiasm, dedication and a high degree of character and energy. All of the songs performed were (and are) original compositions by the band members, but were (and still are) authentically 1960s in their sound.
In 1989 Edinburgh was home to many bands, many clubs and many live events. If you wanted musical entertainment you could pick from a number of genres, including 60s nostalgia – although this wasn't in quite the same form as the mainstream retro juggernaut which has surged back and forth through the national consciousness over more recent years.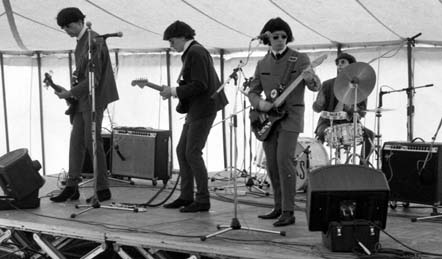 Back in the 1989, around the streets of Edinburgh there was a sudden explosion of eye-catching black and white posters advertising a band which, although unknown, was instantly recognisable by its 60s iconography and tongue-in-cheek attitude. These caused large numbers of people to come to the early gigs, and when they did they were subjected to music played with manic energy. This coupled with the light-hearted banter and overwhelming period atmosphere helped the band to achieve cult status in a very short time.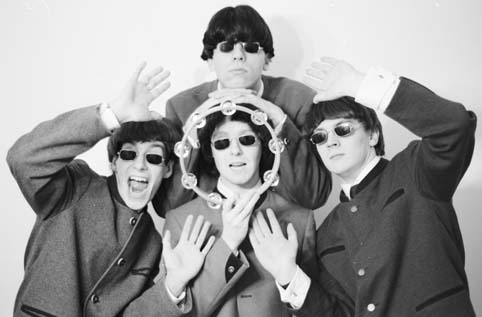 Spooks music is unpretentious, except where pretentiousness is deployed in the interests of having a good laugh. Furthermore Spooks live performances concentrated on providing a complete show, incorporating many different media, as could have been experienced at their Bikini Club. This club, organised and run by the Spooks themselves plus some close friends, incorporated the band and a 60s disco with moving light shows, op-art décor, theme videos and slide projection.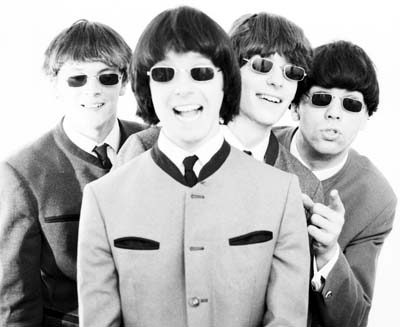 As the club became more successful, the lighting and other audio-visual effects became more elaborate and extensive. Originally it ran every Friday night at the Kasbar in the Cowgate, but when this became too small a series of larger one-off clubs was staged at Moray House.
The Edinburgh Fringe turned out to be a natural environment for Spooks antics: they were in great demand in venues such as the Gilded Balloon, the Main Hall in the Fringe Club and the Fringe Sunday outdoor event.  In 1990 they had a Friday night residency at the Fringe Club, playing a full set as part of the Bikini Club. This was showcased on STV's "NB" programme, with the band interviewed along with extracts of two performances.
Being notorious blatant self-publicists, the Spooks also produced a wide range of band-related merchandise. This included T-shirts, posters, postcards, badges and a fan club magazine.